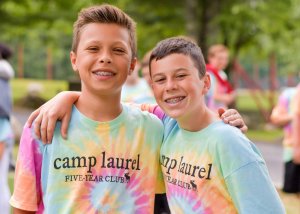 One of the things we talk about in the cabins, at program areas, in the Lodge at meals, at evening activities, and even on trips is: being nice. Sometimes, campers need to be reminded about this, and it's our job, as caring and responsible adults, to do this in a loving and constructive way.
At the first campfire of the summer, Jem and Debbie talk about being kind and respectful to each other. It's not only the right thing to do – it's expected here. This is a value we reinforce throughout the summer. Before we leave on our first S-Day trip, Jem reminds everyone they are leaving Camp Laurel and heading into the outside world, and we want our campers to be great citizens so they feel terrific about themselves and they represent Camp Laurel well.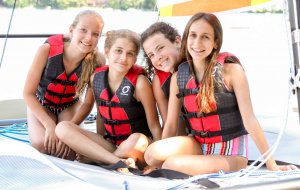 Kindness and respect are key ingredients to a happy cabin life, and therefore a happy summer. It's a value we speak about regularly, and reinforce when necessary. Fortunately, we have an environment at Camp Laurel that fosters respect and kindness, and we watch random acts of kindness and respect occur all day long. These values are important at camp. They're important at school. They're important at home. And, of course, they're important in life!