I was nervous and excited to send my son Connor to camp this year. Connor's best friend attended camp the summer before and could not stop raving about it. So after plenty of research and discussions, we decided to let Connor spend the summer away. I won't lie, my "mommy heart" broke a little when he practically jumped out of the car to get on the plane and didn't look back, but I was pretty sure we were making the right decision. In August, when he got home, I was 100% sure we made the right decision. The happy, smiley kid who jumped into our backseat was…different.
I couldn't pin point many differences right away, except for the excitement in his eyes and voice when he talked about all of his new friends and cracked himself up remembering inside jokes and hilarious conversations with his new buddies. One of the main things I noticed when we got home was how helpful he had become. Without me asking, he would make his bed, take his plates to the sink, offer to bring in the groceries or even simply ask if he could get us anything from the kitchen since he was going that way. I noticed a new sense of thoughtfulness when he came back. Not that he was heartless before by any means, but I definitely noticed a change in his willingness to help others and think of others before himself. As the days passed, my heart exploded with joy to see him excited to text, chat and FaceTime with his new friends. He went to camp a little reserved, and came back social and confident. I loved seeing him interact with his peers, I loved seeing how he was truly listening to what others had to say, and how he felt confident contributing to the conversation.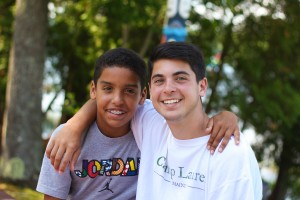 Just today, he told me he was going to try out for soccer at school, a sport he had never played before camp. He said he was encouraged to try it at camp and played it almost every day while he was there. As a mom, I am blown away at what positive changes have come from sending my son to camp. I knew he would make friends, try a new activity or two and learn to live both independently and with a group, but I had no idea about the social skills, character development, relational growth and boost in confidence that spending a few weeks away could create.
Camp changed my son for the better, and we are both looking forward to the growth and changes that will happen next summer at camp!