Today marks the end of Week #3 at camp. We've been in a great rhythm at camp and cabin groups, program areas, campers and counselors are running on all cylinders.
Every morning, before anyone is up (except the breakfast chefs), Jem and Debbie meet with the Head Counselors, Campus Leaders and Program Directors to review the day ahead. We have an incredibly structured and complex program at Camp Laurel, and this 40 minute meeting gives us the opportunity to refine the day based on many different factors. Even though the daily program is set, there's always a degree of spontaneity based on how the camp "feels." Are campers and counselors rarin' to go full speed… or, because we've had almost three full weeks without any weather delay…. do we need a late wake-up? Do the U-12 boys need an extra baseball intercamp, or do the Baxter girls need another round of bumper tubing? Do Super seniors want their next trip to Boothbay… or, should we try Old Orchard Beach? All of these questions (and so many more) are pondered as we put the very best, most exciting and most interesting program together for every camper.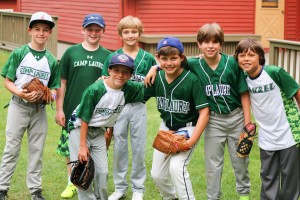 After the program section of the meeting concludes, we break up into Boys Campuses and Girls Campuses and each Head Counlselor (Jon, Claire and Joie) meets with either Jem, Debbie and Peter to review each cabin group. We talk about cabin dynamics, camper interactions, staff interactions and make adjustments to ensure every child is getting the maximum experience possible.
There is a lot of structure at Camp Laurel, but we are not so set in our ways as to not open our eyes to adjustment, change and flexibility. Great traits to make an incredible summer and great traits for our campers to emulate in the outside world.