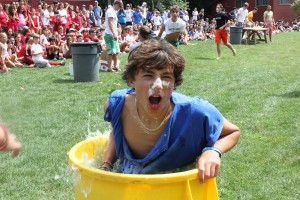 One of the biggest parts of the summer at most traditional summer camps and nearly as big of a tradition as the concept of summer camp is the color war. For several days, campers and staff members parade around camp in their team colors. Body paint, capes, mismatched socks, colored hair spray, pom-poms, and tutus are the en vogue accessories, and enthusiastic demonstrations of team pride via spirited cheers are infectious.
Although an emphasis on friendly competition geared toward giving campers an opportunity to put their camp skills to the test while exhibiting exemplary sportsmanship has prompted many camps to change the name to such things as Challenges, Tribals, College Days, and Olympics, the concept remains the same: Campers are placed onto teams and, for several days, engage in a host of activities designed to re-cap the summer—a sort of "best of" replay.
Whatever the name, the competition is often full of traditions regarded as sacred by campers and staff alike. The beginning of the games is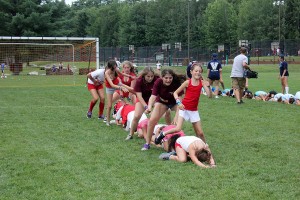 invariably a surprise to campers and much of the staff with the reveal being is a closely guarded secret about which there is quite a bit of discussion and speculation in the days leading up to it. The breakout is unquestionably, one of the biggest events of the summer and always on everyone's list of favorite moments from the summer. Counselors are included in the action as team leaders and coaches.
The end of the competition often involves some sort of bonding activity designed to bring the teams back together as one camp family to finish out the summer because, in the end, the emphasis of a color on color contest is not whether one is on a winning team when all is said and done, but that each and every camper has had the opportunity to demonstrate what he or she has learned over the summer and, thus, gain an understanding of how each person brings something different and valuable to the camp family. Such a focus makes these types of camp activities a valuable lesson in diversity and teamwork. Everyone has a unique role on the team that directly affects the team's overall performance. For anyone—camper or staff—who has ever been a part of camps, it's the part of the summer that is undoubtedly one of the most memorable.