Actress Jami Gertz, a summer camp alumni, once said, "There is something very special about being away from your parents for the first time, sleeping under the stars, hiking and canoeing." Although on the outset this seems like just another quote about summer camp, the use of the word "special" makes it standout. "Special" is defined by Merriam-Webster as "distinguishable," "superior," or "of particular esteem." Every camp, when planning the summer, strives to create an experience that sets it apart from other camps. To those whose exposure to summer camp is limited to Hollywood's interpretation of it, there may seem to be little that distinguishes one from another. However, to those who attend or have attended summer camp, each one is unique from others. For campers and staff alike, to think of the more than 12,000 summer camps throughout the United States as a collective summer experience is to think of all pizza as having the same flavor. Sure the basic ingredients are the same. Most pizza pies even look similar. But, depending on which toppings you add, one pie might taste very different from another. It's that special flavor of each camp that gives it that "esteemed" place in the hearts of those who have called it their summer home. Choosing a camp is more than simply deciding to send your child. The values, traditions, activities, facilities, staff, and even the duration all play a role in deciding at which summer camp your child will find the most success.
In a couple of weeks, another summer will start, and thousands of young campers will taste summer camp for the first time. They'll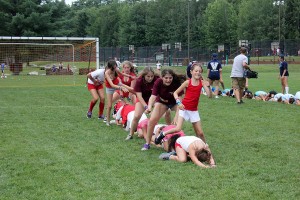 spend their first night sleeping in a bunk/cabin with fellow new campers. They'll bond with favorite counselors. They'll try at least one activity for the first time. They'll make new friends, learn new songs, and, for the first time, experience life away from their parents. As Jami Gertz said, it will be "special" as they begin gaining the independence, self-reliance, and self-confidence that are all-important ingredients in creating a life that is "distinguishable." Ultimately, however, the role that summer camp plays in the successes of the lives of campers as children and, as they mature, in helping former campers meet the challenges of adulthood does not simply come down to experience but also in the choice of summer camp. So whether you're just starting to consider summer camp, have begun searching for a camp, or will be one of the thousands of prospective families touring summer camps this year, be on the lookout for the right mix of ingredients that will create that "special" experience for your child.